Description
Dash Cam M500
Intelligent driving assistant beyond recording
1944P resolution & HDR
24-hour parking attendant function*
Built-in GPS & GLONASS
Advanced ADAS driving assistance
Built-in eMMC storage
TPMS compatible*

What you can expect from a quality Dash Cam
2.5x 1080P with our widest viewing angle yet
The 2592x1944 high-resolution, outstanding image quality device records license plates, road signs and other critical details of the road.
With the 70mai app, you can view real-time recordings directly on your phone. The extra-wide 170° field of view better captures what's happening on both sides of the car, where collisions are most likely.
Powerful night recording
With HDR* imaging and a large F2.0 aperture that attracts more light, the M500 automatically adjusts exposure and reduces noise to deliver sharp, well-lit images in low-light and high-contrast environments.
* High Dynamic Range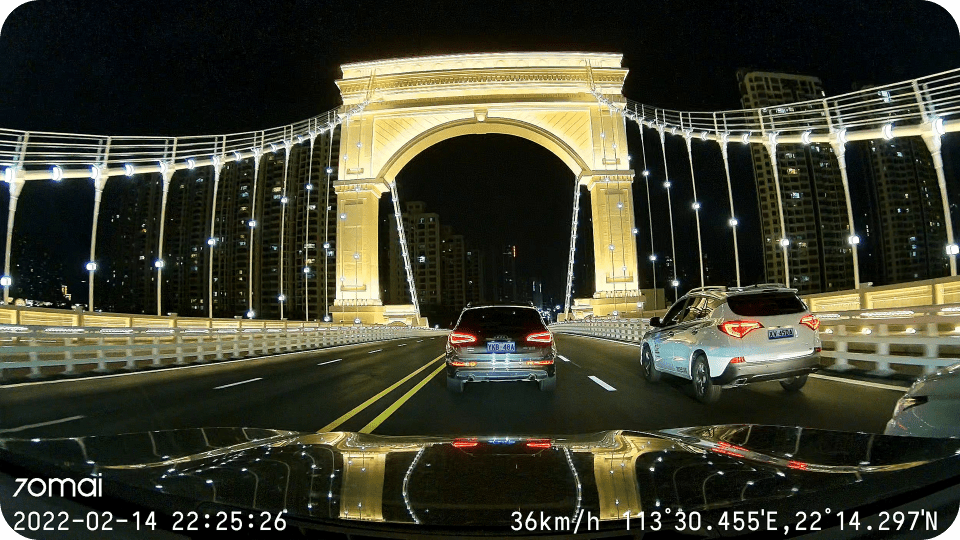 24-hour parking surveillance* with car battery protection
Your car is in good hands while you're away. If the built-in acceleration sensor (G-sensor) detects a sudden jolt or collision, the M500 will automatically start recording to capture any incident. If an emergency video is being recorded, the dashcam will notify you with an audio signal after switching back on.
Car battery protection**: You don't have to worry about the dash cam draining your car battery while your car is parked.
*The 70mai Hardwire Kit USB Type-C installation kit is required and sold separately. **When the car battery voltage is low, the dashboard camera will automatically turn off to protect the car battery.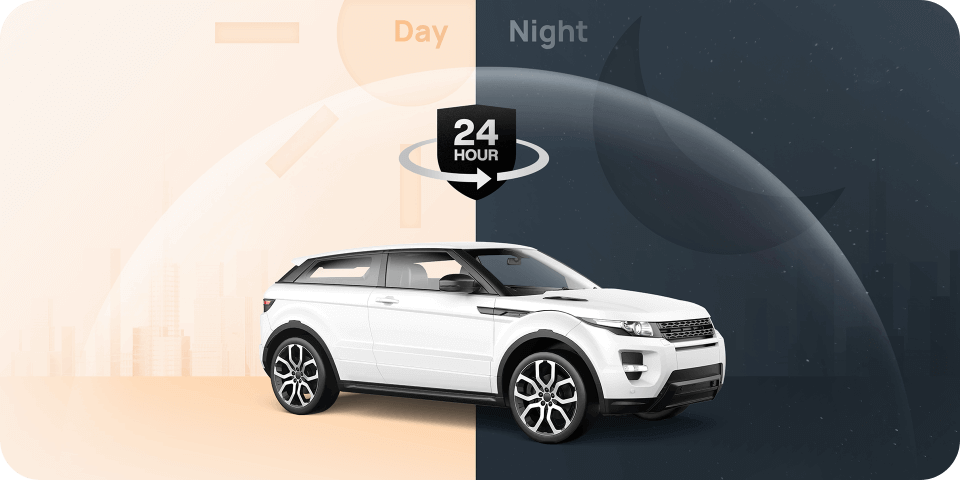 Time-Lapse video recording*
Time-lapse recording enables real 24-hour parking surveillance: it compresses each 30-minute period into one minute, so the camera can stay on all night** without using up too much storage space. Thanks to faster playback, you can quickly find noteworthy events.
*The 70mai Hardwire Kit USB Type-C installation kit is required and sold separately. **Battery protection also applies to timer recording
Advanced ADAS driver assistance system
Act proactively with ADAS: it detects your surroundings and alerts you to safety issues with an audio signal. The M500 comes with advanced ADAS alerts, including lane departure, forward collision, moving traffic and pedestrian collision warnings. The pedestrian collision AI algorithm enables fast and accurate detection of pedestrians and cyclists in the M500's field of vision and provides timely warnings to prevent accidents.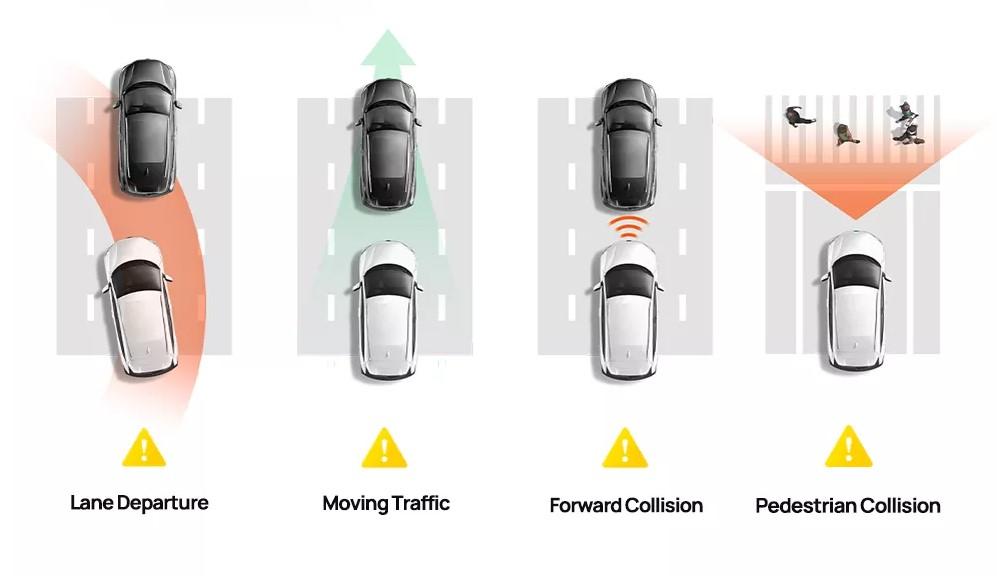 ​
Even more stable GPS and GLONASS positioning
The positioning system of the M500 also receives signals from the GPS and GLONASS satellites, thus enabling stable and accurate positioning even in areas prone to signal obstruction. Trip data* includes time, speed (km/h, mph) and coordinates - vital for roadside assistance and insurance claims in the event of an accident.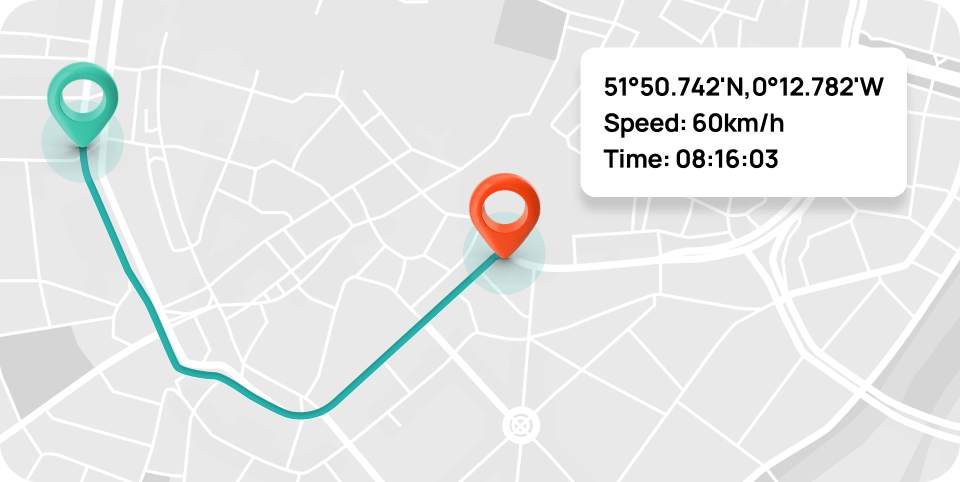 Increased reliability, safety and comfort
No memory card
Thanks to the built-in eMMC 5.1 storage, there is no need for a separate memory card. The M500's maximum write/read speed of 230MB/s and 150MB/s helps you avoid common problems such as dropped frames and memory card errors.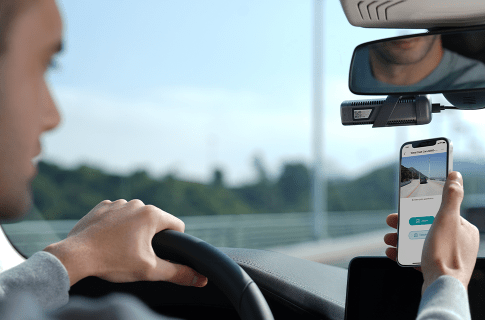 Application control
Connect to the 70mai app via built-in Wi-Fi and check real-time footage without using up your phone data. You can also change recording duration and other settings, take and download photos and videos...all with one touch
Loop recording
Loop recording provides virtually unlimited storage space, as new recordings automatically overwrite* older recordings when the memory card is full.
*Event recordings are saved separately and are easy to find.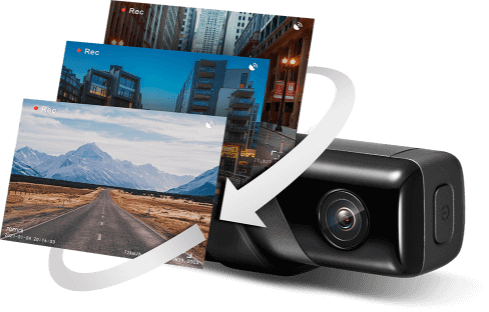 Gallery of sample shots



Parameters
| | |
| --- | --- |
| Video resolution 2592x1944 | |
| Speed 30 fps | |
| Viewing angle 170° | |
| Aperture / brightness f2.0 | |
| Lens 3 elements, wide angle | |
| Image sensor OmniVision OS05A10 color CMOS 5 MP with PureCel® Technology | |
| Processor Novatek NT96580 | |
| Supported languages EN/RU/JP/KR/SP/PT/TC/PL/TH/FR/DE/CZ/RO | |
| Battery Built-in, 500 mAh lithium | |
| HDR/WDR Supported | |
| Storage | Built-in eMMC 32/64/128 GB |
| Parking attendant function* | Supported |
| Time-lapse recording | Supported |
| BT Tire Pressure Checker | Supported** |
| Voice control** | * Supported |
| GPS | Built-in GPS and GLONASS receiver |
| ADAS | Supported |
| App access | Supported, 70mai app, Android / iOS |
| Driving Data Overlay | Supported |
| Size | 106 x 31.5 x 30 mm |
| Input | 5V/2A |
| Box contents | M500 camera, mounting bracket, USB power cable, car charger, plastic spatula for installing the cable, electrostatic label (2 pcs.), adhesive strip (1 pc.), user manual, warranty card |
Reviews
There are no reviews for this product.