Description
Deerma DX888 stick vacuum cleaner
Make cleaning easier! The Deerma DX888 stick vacuum cleaner provides great comfort, and its 15,000 Pa suction power provides outstanding performance, thanks to which it can handle any dirt with ease! With the replaceable brush head included in the set, you can easily clean hard-to-reach places, and you can empty the 0.45-liter dust container with a single push of a button. You can also use the stick vacuum cleaner as a manual vacuum cleaner, and its disassembly and assembly will not cause any problems!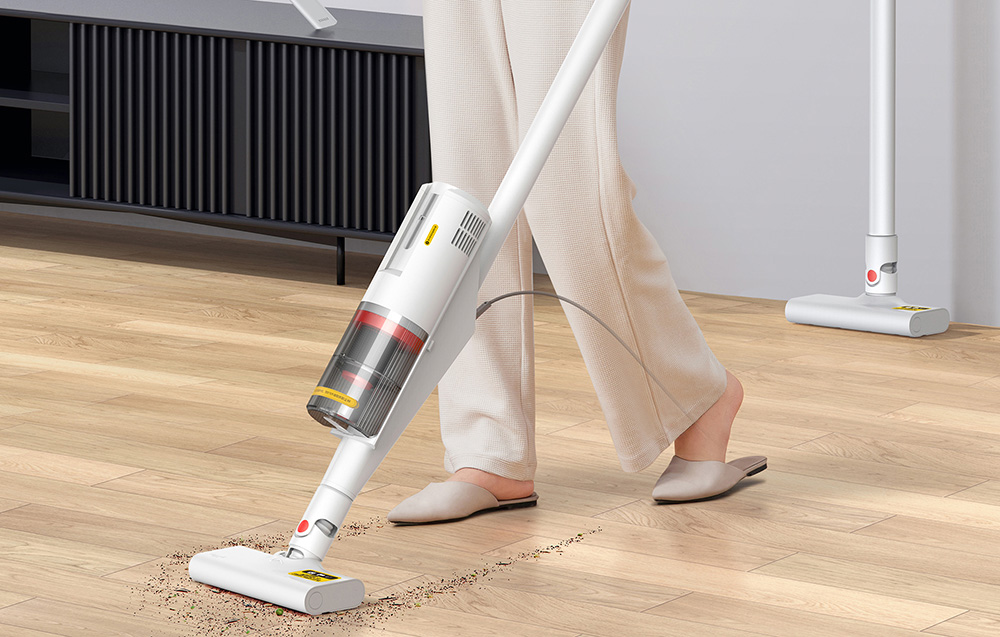 Use it however you want
The stick vacuum cleaner is designed so that you can easily customize it to your own needs, as some of its components can be disassembled. Thanks to this, it also functions as a manual vacuum cleaner and can easily clean curtains or collect cobwebs from the ceiling.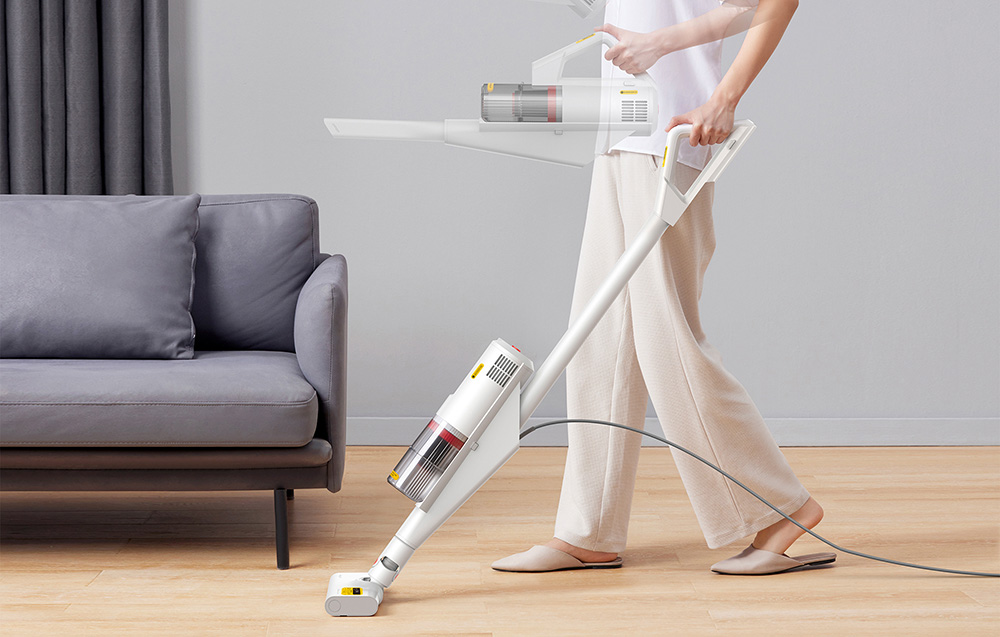 It helps to fight dirt
From now on, you can get rid of dirt, dust and other impurities in seconds. The DX888 stick vacuum cleaner is equipped with a powerful motor, the output power of which reaches 600W. Thanks to this, it removes dirt quickly and efficiently. The device uses triple filtration and a specially designed cyclone system. As a result, it removes dirt even better and keeps the suction power at an optimal level. Win the battle against dirt and enjoy a clean home!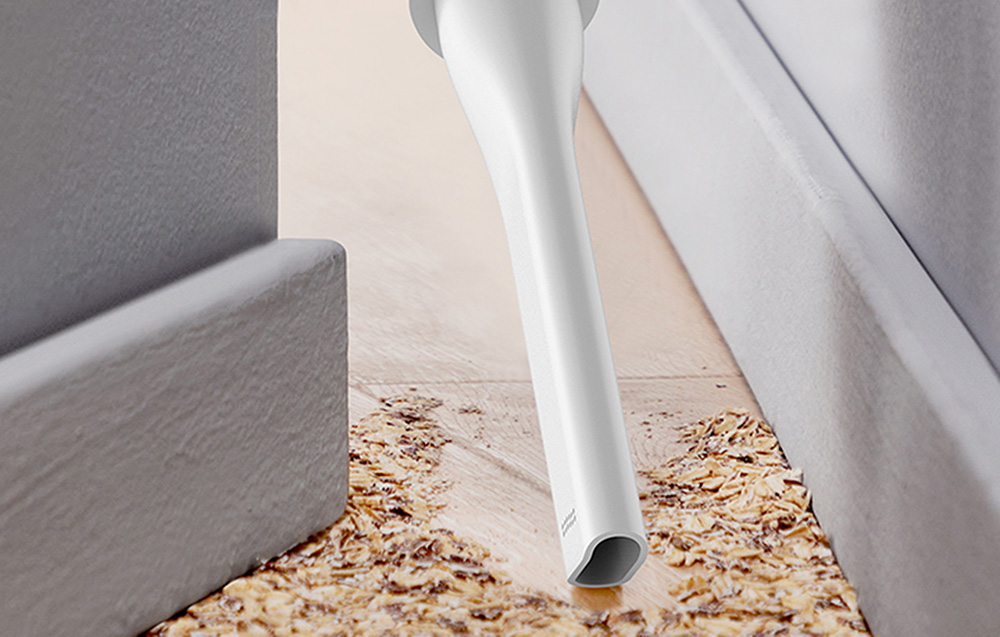 Convenient use
You'll see that cleaning doesn't have to be that much of an effort. The stick vacuum cleaner DX888 has a thoughtful, ergonomic design: its large, triangular handle is bent at 106°, thanks to which it fits perfectly in the hand and does not have to strain your wrist. In addition, controlling the device is very simple and convenient, as the brush head is equipped with small rollers that work well on different surfaces. It is also very light in weight, so you can easily lift it to clean curtains and higher shelves.
Improved floor cleaning brush
Soon your entire home will be sparkling clean! The DX888 stick vacuum cleaner is equipped with an improved brush that perfectly cleans various surfaces from tiles to carpets. You can rotate the thin brush head clockwise and counter-clockwise 150°, thanks to which you can easily clean under the furniture. In addition, the large brush opening is worth mentioning, which is 230 mm wide, so you can quickly clean larger areas with it.
More brushes in the set
In the set, you will also find 2 additional brush heads, with which you can easily clean hard-to-reach places: with the narrowed brush head, for example, the recesses of the sofa, and with the triangular, soft brush head, you can clean the surfaces of the furniture and easily remove dust, hairs and various dirt . From now on, you can make your home clean in seconds!
Even more comfort
You can disassemble and assemble the vacuum cleaner extremely easily and adapt it to your own needs! Storing it won't be a problem either, as the device also comes with a practical wall mount. In addition, it has a 0.45-liter dust bowl, which you only need to press a button to empty, and it is made of durable ABS plastic, which makes it extremely durable and easy to clean.
The set includes:
Stick vacuum cleaner
Handle
Tube
Floor cleaning brush
Soft brush head
Narrow brush head
User manual
Parameters
| | |
| --- | --- |
| Brand | Deerma |
| Name | Deerma stick vacuum cleaner |
| Model | DX888 |
| Suction power | ≥ 15,000Pa |
| Voltage | 220-240V |
| Frequency | 50-60Hz |
| Power | 600W |
| Dust container capacity | 0.45l |
| Capacity of the dust container | 0.45 l |
| Noise level | <85 dB |
| Weight [kg] | 2.1 kg (including packaging 2.8 kg) |
| Working range [m] | 5m cable |
Reviews
There are no reviews for this product.