Warranty and Service
We offer a 1-5 year factory warranty for the electronic products sold on Techsend, depending on the value limit!*
Warranty period:
a) 1 year in the case of a sale price of 25€ but not exceeding 255€,
b) 2 years in the case of a sale price exceeding 255€ but not exceeding 645€,
c) 3 years above the sale price of 645€.
The warranty does not apply to the normal wear and tear of wear and tear parts (e.g. lighting fixtures, battery capacity, tires, protective and covering materials), however, this does not affect the warranty obligation in the event that the wear and tear parts are "defective" as defined in civil law.
If the product you bought on Techsend fails, the defect meets the warranty conditions, and it occurs within the warranty period, contact info@techsend.eu to start the service procedure and fill out the service notification form!
Our service address: 1101. Budapest Monori Utca 2-4 Hungary(our collection point is also located at this address)
1. If the submitted product works in accordance with the manufacturer's description/the defect is not of warranty origin, our service will charge a labor fee of 25€ for the conducted test, we can hand over the product to the sender after the test fee has been reimbursed. 
2. In any case, the submitted articles must be cleaned before handing them over to the courier service. Our service can only examine/repair dirty, contaminated devices after cleaning, the cleaning fee is 5€, which can be paid upon receipt of the product by cash/bank card/transfer.
3. The invoice and the service notification form must be placed in the submitted package, if you deliver the product to us personally, we will also provide the opportunity to fill out the documents on site.
4. If the submitted product works according to the manufacturer's description/the defect is not of warranty origin, the cost of return shipping (both ways) will be borne by the sender.
Download the service form HERE
You can read about the warranty conditions in detail in the GTC, which is available HERE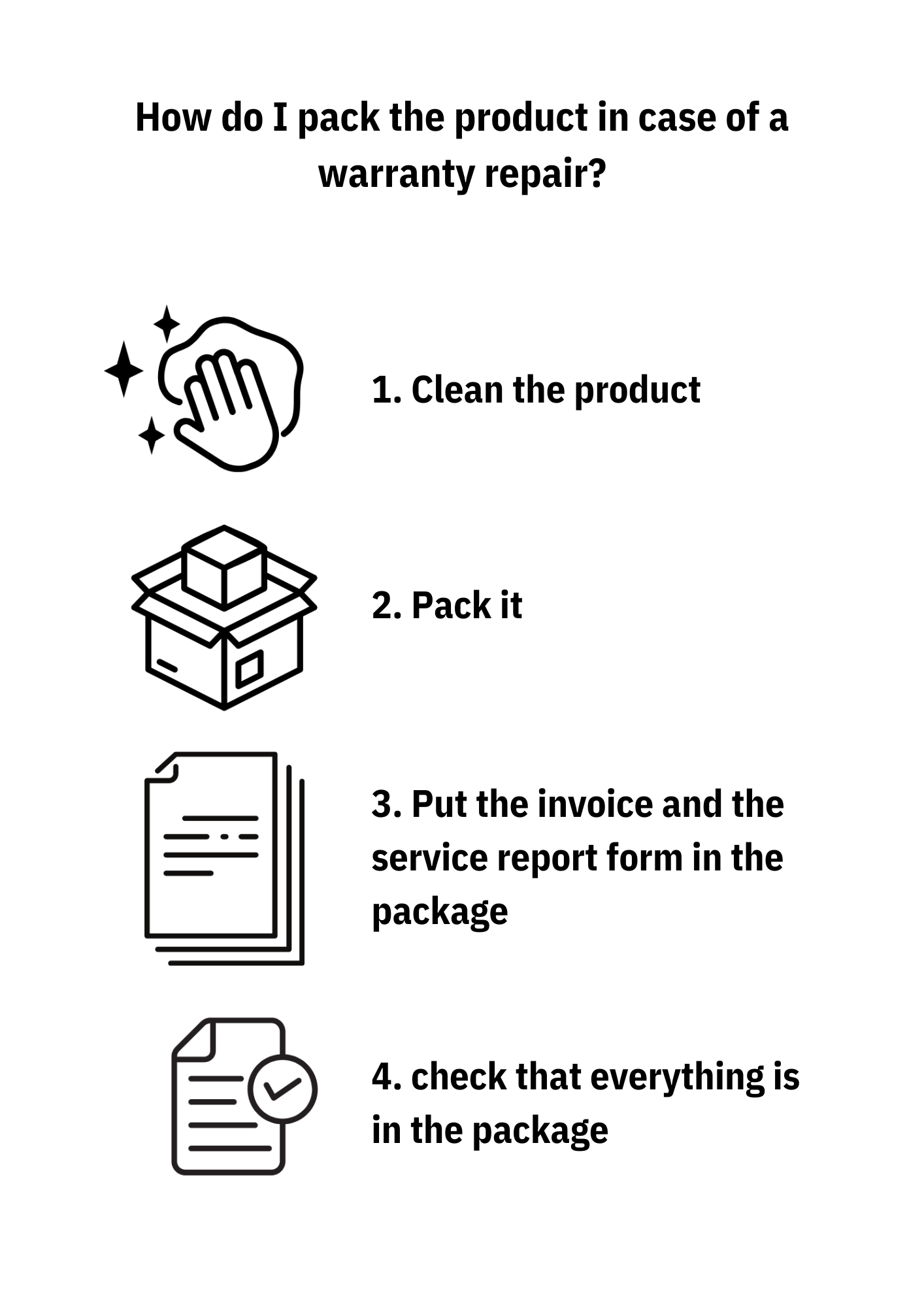 Exclusion of warranty
The warranty is void:
If the malfunction is caused by improper use, modification, improper handling (e.g. improper software update), improper storage, breakage, elemental damage, or other reasons independent of the product.
In the event of failure resulting from non-compliance with the instructions for use or from use other than that.
A service not included in the user manual of our products, the absence of a parameter not listed among the technical parameters, its unsuitability for an unmentioned task, or related customer dissatisfaction are not covered by the warranty obligations.
In case of loss of the original invoice confirming the purchase. (Crumpled, torn, stained invoices will be replaced upon request.)
Without product manufacturing ID (S/N code)
For other questions, feel free to contact our customer service by email at info@techsend.eu.
*Our warranty and guarantee conditions can be read in the General Terms and Conditions, the contents of which should be considered as guiding information.